Goodness, I've really fallen behind. I finished this book in April, and we're already well into June. A lot has happened, but for now let me catch up with the books I've read.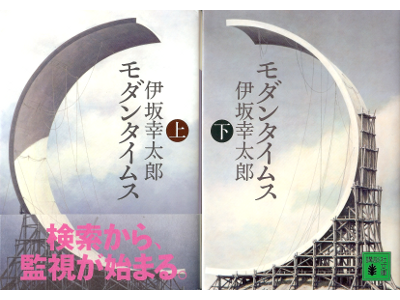 So this is one of the longer, more intimidating Isaka books I've read so far. It comes sold in two parts, as two separate books. The tittle is Modern Times. The story takes place in the future where people are vaguely still aware of the Beatles but nobody is sure what kind of music they played.
The protagonist is a 29 year old computer programmer who is pursued by dangerous people after he types a few keywords (related to a certain incident) into a search engine together. In the process, he learns about the oppressive power of the "systems" of our society and also of the monopoly of information and surveillance.
The novel borders a few genres, including a little science fiction, mystery, thriller, and horror. The horror being more of a "wow, that's kind of creepy" kind of horror, due to the fact that in the end, the world continues its spiral into further systemizing society.
Some parts of the book parallel themes happening lately in the political sphere, regarding propaganda, false news, cover-ups and the like; it wasn't a far stretch to compare it to real life. It was really creepy reading this post-2016 US presidential election, considering this was written back in 2008.
My dog-eared quotes from the book:
要するに、国家が望めば、国家が生き長らえるためなら、殺人も合法となるんだよ。国民のためにそうなっているわけじゃない。全部、国家のためだ。
"In other words, even murder becomes legal if a government wishes to make it so, in order to make its power last longer. It's not for the citizens. It's all for the state."

結婚とは、一に我慢、二に辛抱、三、四がなくて五にサバイバル、である。極端に猜疑心の強い妻と暮らす私からすれば、妻以外の女性親密になることはサバイバルの失敗、死を意味した。比喩ではなく、文字通りの死だ。
"Marriage is patience first, compromise second, no three or four, and survival fifth. Being married to my extremely suspicious wife, my getting closer to another woman means I have failed in this survival, and this means death. Not metaphorically. Literally."

「戦争の話じゃない。もっと大きな話だ。独裁者や指導者は、見方によれば、英雄とも呼べるかもしれない。国家や社会には、周期的にある種の英雄が出現する。戦争に発展することもあった。戦争により、科学や工業が発達することもある。」
「戦争のせいで、科学や工業が破壊されることもありますよ。」
「それでいいんだ。破壊されれば、また、動き出す。動物や国家にとって一番、回避すべきことは停滞だ。変化がなく、動かない状態は、死に近い。」
"I'm not talking about war. It's bigger than that. Dictators and leaders could be called heroes from certain points of view. Countries and societies have cycled around the concept of certain types of heroes. Sometimes it led to war. And those wars led to advancements in science and technology. "
"But because of war, science and technology were also used for destructive purposes."
"Exactly. Destruction brings things back into action. The one thing that any animal or country needs to avoid is stagnation. Not changing or moving is close to death."

「何、しょんぼりしてるのよ。佳代子が口を開いた。あなたが言ったじゃない。人間は大きな目的のために生きてるんじゃないの。小さな目的のために、行動したら?」
"What, why the long face?" said Kayoko. "You said it yourself. People aren't born for some grand purpose. So why not start doing something for a smaller goal?"

「あんた、勇気はあるか?」
「勇気は彼女が」 と妻の佳代子を指差した。「彼女が持っている。俺がなくしたりしないように。」
"Do you have the courage?"
"She's got it," I said, pointing to my wife, Kayoko. "She's holding it for me so I don't lose it."
Current Isaka Count: 20/32